Avenue of Life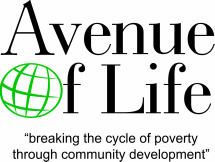 Last week, I had the pleasure of touring Avenue of Life, which serves the underserved and promotes the Gospel in the heart of Kansas City, KS. My goal was clear - to learn the logistics of one particular program and then quietly leave so that I didn't interrupt the work they do. I got quite a bit more than I bargained for.
I've been wondering how we might do a more thorough job of helping those in Grace Fellowship's immediate neighborhood who are facing financial instability. As a church, we help with the backpack program at Oxford Middle School, and as good as that is, it doesn't really help the affected families break the cycle of that instability. I've spoken with the principal, and she agrees she'd like to be able to do more.
A pastor friend of mine from Westside Family Church, Matt Adams, told me about Avenue of Life and their Impact Wednesdays, where they host in their building representatives from several different government and non-profit service providers. Impact Wednesdays allow their neighbors to take care of many needs in one location on one day. After what we've learned through COPE, this is an unbelievably helpful service.
I wondered if perhaps we could host something similar to help our neighbors, so I went to investigate. I figured it was something along the lines of getting a list of providers to sign up, setting a day and time, and putting out the welcome mat. What they are doing is far, far more involved, and far, far more helpful. They have a smoothly running system with intake forms, a library of information, follow up, coaching, childcare, and so on. It's actually quite brilliant, and amazingly effective.
Will something like this play in Johnson County, where the stigma is different, transportation issues are different, and providers are very different? That's yet to be seen.
When I arrived, I got the tour of the place and the many different services they provide (including a nice beauty salon / barber shop). They operate from an assets-based posture, rather than needs-based. For example, most of their workers are from the neighborhood, using the assets within the community, rather than importing talent. They persistently move people from mercy to sustainability to development. They collaborate as an ethic, even providing office space for a number of providers, and freely sharing credit. They downplay their own logo and name in order to invite more partners to join. They are financed primarily through grants rather than a body of donors, which gives them a unique freedom to interact with their volunteers.
After the tour, I got a meeting with the executive director, Desiree Monize. I really was hoping for as much as 1/2 hour to get the 1-2-3's of Impact Wednesday, but we ended up talking for almost 3 hours. Our conversation was honest about the things the Church does well and does poorly in caring for those in material poverty. I learned a great deal from her years of of hard-earned lessons.
Check them out: http://www.avenueoflife.org/. I'm not suggesting we add another ministry partner just yet - we're probably at our limit. But I want you to be aware of them, what they do, and how they do it. I believe their approach is how the body of Christ can truly transform neighborhoods. Their success rate of helping people out of homelessness is impressive.
Also, their collaboration with the public schools to address material poverty was the subject of a PBS News Hour special that is worth seeing: https://youtu.be/QSYr6UZjvac .