Pot Pie Theology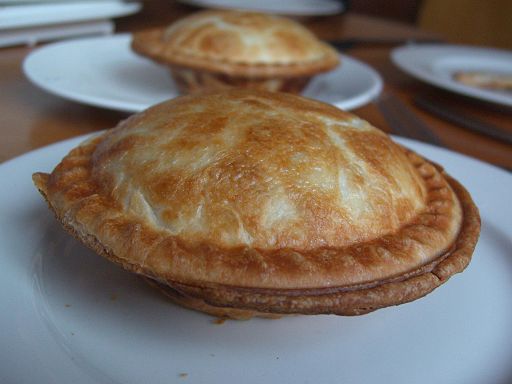 This week, I was able to lunch with one of our members near his workplace downtown. The restaurant we chose is known for locally-sourced, fresh, homemade recipes, and I decided to go with the pot pie. It was whatever level is above "Delicious."
The server was a cheerful woman who engaged easily in conversation. She was rightfully proud of their varied menu, so when I asked her what would be a great choice, she pushed eagerly for the beef stroganoff - her favorite. She helped my lunch partner pick side dishes, and almost got me to feel guilty for not ordering dessert (which would have been great, I'm sure).
She certainly seemed to love her work and her customers. She was concerned about quality, getting the right meal for a person's taste, creating a good experience for her customers, and making a fair profit.
In short, she demonstrated a pretty good theology of work, whether or not she would use those terms.
We've all had food servers who did not care about quality, sourcing, customer experience, or listening long enough to help someone find the right meal for that moment. They just want that tip - what they get out of it rather than what they put into someone else's life.
They're just food servers, right? Certainly their work is not really as theologically loaded as for a nurse, school teacher, or engineer, right? Let's not even compare about pastors and missionaries, whose work really matters, right?
I'm not just saying that she did her job well. I'm saying she provides a great picture of the theology of work. She showed what kind of work really matters.
She worked hard (and joyfully) to help other people flourish, if even for an afternoon. She was seemingly more concerned about her contribution rather than her compensation. She valued the humanity of her customers (as far as we could tell, of course). She made other lives richer while she earned a reasonable profit at the same time.
These are all lessons Scripture teaches us about work.
I didn't just get some pot pie for lunch. I had a great conversation with my lunch mate, and I watched a great lesson in the value of work.
(Image by avlxyz at http://www.flickr.com/photos/avlxyz/ (http://www.flickr.com/photos/avlxyz/3258947765/) [CC BY-SA 2.0 (http://creativecommons.org/licenses/by-sa/2.0)], via Wikimedia Commons)