Bible Reading Plan - for 2020
We offer a weekly Bible reading plan. It starts on Sunday each week.
Click on the Bible Reading Plan event on the calendar. This contains links for each day's reading for the upcoming week.
If you'd like to join in to the online discussion, instructions follow.
(NOTE: Only Faithlife subscribers can join the discussion)
First, you need a Faithlife account (see below).

Click on the passage link you want to read (from the Bible Reading Plan described above or from your Faithlife feed described below).

At the top of the left column are 4 icons. The rightmost icon is for community notes - it looks like a call-out box, with the tail pointing left. Click on that button and you'll see the questions for the passage and any discussion that has already happened.

Below the question for the passage is an unfilled call-out box, with the tail pointing right. Click on that to add your comments to the question. Include any other thoughts or prayers the passage evokes in you.
Instructions to get a Faithlife account to join the online discussion:
If you already have a Faithlife or Logos Bible account, you don't need to register. Skip to step 3.

To register, go to

https://faithlife.com

, click "Register", and follow the instructions.

Log on to Faithlife.

To join the Grace Fellowship Group, go to

https://faithlife.com/gfcop

and click on "Ask to Join." After the administrator accepts the request, you'll be a member of the group. It may take a day or two.

Once you're a member of the group, then just go to the Faithlife website (

https://faithlife.com

) and you should see the reading plan show up in your feed (in reverse order). Or click on the "Grace Fellowship Church of Overland Park" group.
Helpful images
After clicking a link to a passage to read from the reading plan, you'll be taken to the Faithlife Study Bible (http://bible.faithlife.com).
The "Comments" button is in the left column, 4th button. Also, a green "Callout" at the beginning of the passage signifies there are comments. Clicking either will bring up the comments for that passage (see next image).
When done reading a passage, click "Mark Read" to signify you're done.
The "Comments" button will bring up the comments for the given passage.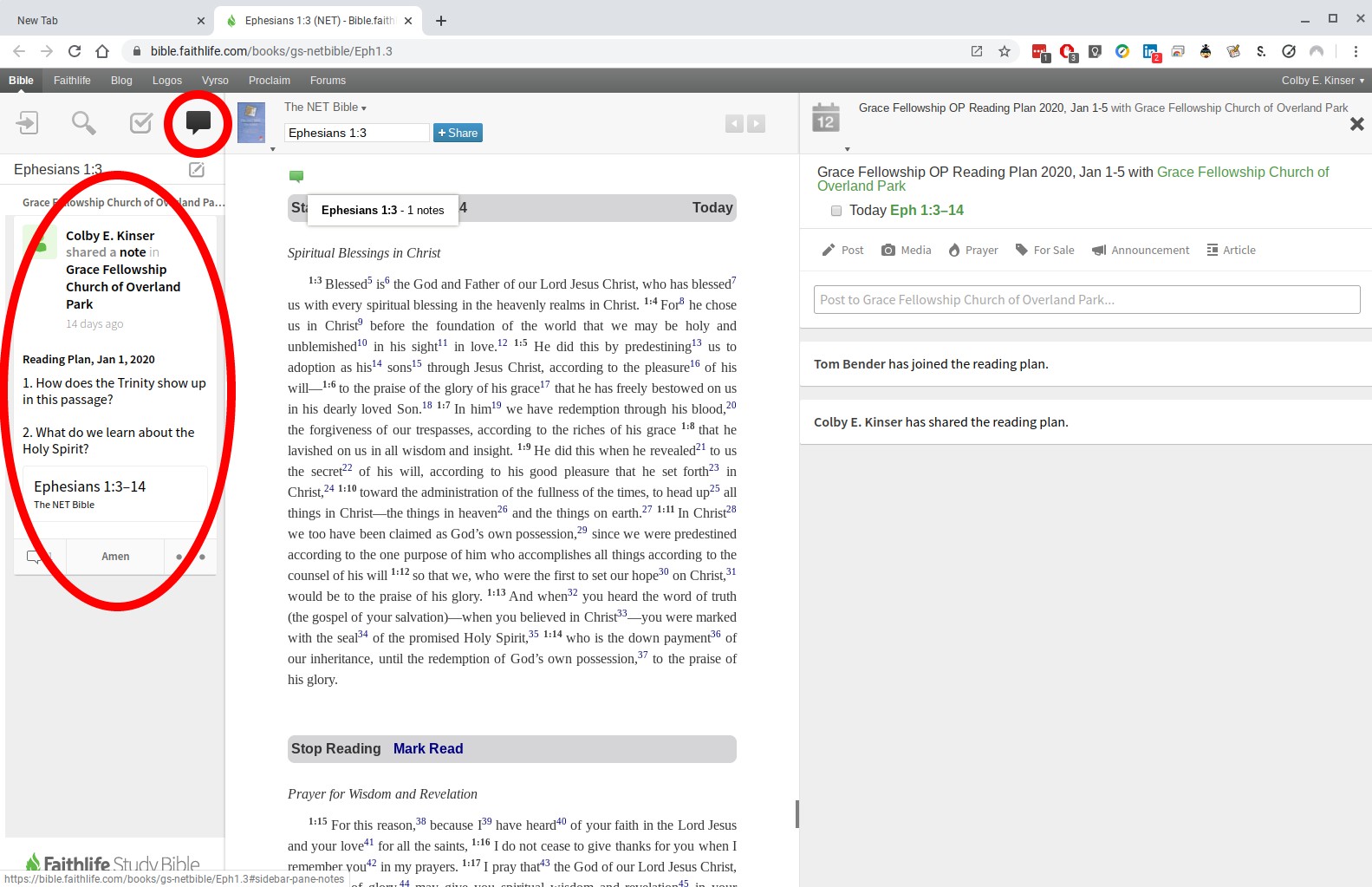 The "Reading Plans" button (left column, 3rd button) will bring up all the reading plans you've subscribed to in Faithlife.
The right column also shows you the reading plan you're currently reading, and is a second place you can make comments.
Your Faithlife homepage (http://faithlife.com) will show the posts for all the Faithlife groups you belong to and your active reading plans in the right column.